The UK will evacuate British diplomats from Sudan as soon as possible but other British nationals are being advised to stay put, despite deadly fighting in the capital, it is understood.
UK troops and military aircraft have been moved to an overseas base to prepare for what would be a high-risk rescue mission into an active conflict zone – in case the order is given.
The number of UK government staff at the embassy in Sudan is thought to be small, in the low double-digits, and any evacuation from Khartoum would be very limited in size.



0:32

Fierce fighting has gripped Sudan for the past few days as government forces clash with the paramilitary group, leaving dozens of people killed.
Other British nationals are being advised to stay indoors and shelter even as the Sudanese army launched new airstrikes against paramilitaries in the city on Saturday.
An eruption of fighting between two rival generals over the past week has left hundreds of people dead and forced residents to hide in terror, many without water and electricity.
Saudi Arabia and Jordan have already launched evacuation missions via a port city in eastern Sudan on the Red Sea coast.
The international airport in Khartoum is closed and movement by road is perilous. It means escape from the country even with official assistance is very dangerous.
Prime Minister Rishi Sunak chaired his fourth emergency COBRA meeting on the crisis on Saturday morning.
Multiple meetings involving foreign and defence ministers and officials have been taking place over the past few days in a sign of the complexity and fluidity of the situation.
Advertisement
The decision to evacuate British government staff from Sudan as soon as feasible is understood to have been taken because of increasing attacks on diplomatic missions.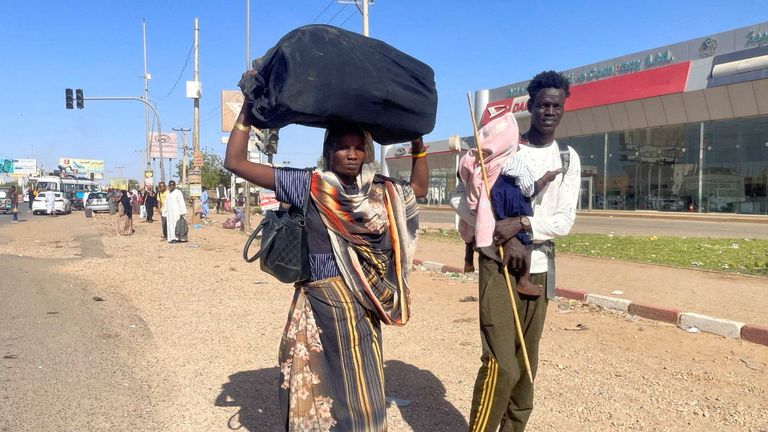 Read more:Why has violence erupted in Sudan?Dramatic before-and-after images show impact of deadly clashesSudan fighting: Here's what's happening on the ground
The UK says its priority is the protection of British nationals in the country, including through support from other UK embassies in the region as well as the foreign office's crisis centre.
This appeared to be slim comfort for those stranded and under fire.



3:10

A Briton trapped in heavy fighting between rival factions in Sudan has called on the British government to do more to help British nationals flee the country.
One British national, on a visit to Khartoum, said she had received no communication from the embassy after being trapped for a week.
"My only question is, if there is no plan to get me out, please tell me why," Rozan Ahmed told Sky News.
The Sudanese military has said it will help the UK, France, the US and China, to evacuate their diplomats and foreign nationals from Khartoum.
Spreaker
Due to your consent preferences, you're not able to view this.
Open Privacy Options
Click to subscribe to the Sky News Daily wherever you get your podcasts
A Sudanese armed forces spokesperson said the countries planned to evacuate their people by air using military transport planes.
The UK has declined to give details on any rescue mission other than to confirm that the Foreign Commonwealth and Development Office and Ministry of Defence are preparing for "a number of contingencies".
It is not thought that any evacuation would be imminent.