The title of Queen Camilla has been used for the first time by Buckingham Palace on invitations for the King's coronation. 
More details of the 6 May event were also revealed along with the formal invitations on Tuesday night.
Camilla has been referred to as Queen Consort since the death of Queen Elizabeth II but is named Queen Camilla on the invites, which will soon be sent to more than 2,000 guests.
The Pages of Honour who will "attend their majesties during the coronation service" have also been named, with future king Prince George among them.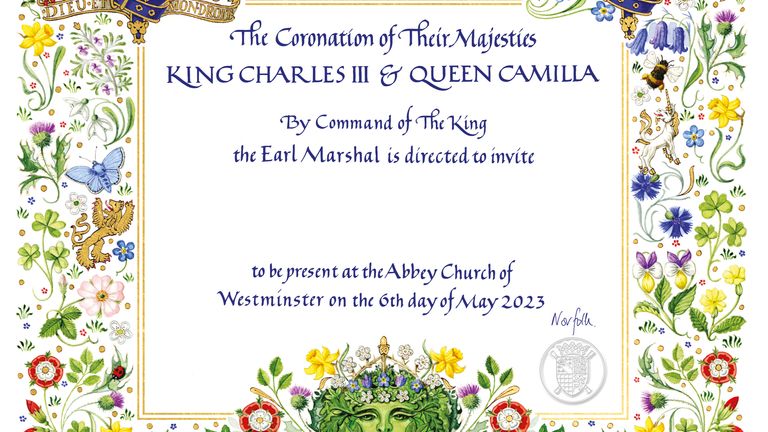 The eight boys who make up the pages are aged between nine and 13 and are either family friends or close relatives of the King and Queen. The group includes three of Camilla's grandchildren.
The coronation invitations will be printed on recycled card and decorated with colourful wildlife and flowers in a design by artist Andrew Jamieson, a Brother of the Art Workers' Guild, of which the King is an honorary member.
It was inspired by the Green Man, an ancient figure from British folklore symbolic of spring and rebirth.
The figure appears at the bottom of the invitation crowned in natural foliage and formed of leaves of oak, ivy and hawthorn and the UK's emblematic flowers.



1:54

Chrism oil prepared for the King
Be the first to get Breaking News
Install the Sky News app for free
The invitations say: "The Coronation of Their Majesties King Charles III & Queen Camilla – By Command of the King the Earl Marshall is directed to invite… to be present at the Abbey Church of Westminster on the 6th day of May 2023."
Advertisement
Read more:First portrait of King Charles III releasedQuest to find volunteer bell-ringers for coronationDuke and Duchess of Sussex hint at invite
A royal source said: "It made sense to refer to Her Majesty as the Queen Consort in the early months of His Majesty's reign, to distinguish from Her Majesty Queen Elizabeth II.
"'Queen Camilla' is the appropriate title to set against 'King Charles' on the invitation. The coronation is an appropriate time to start using 'Queen Camilla' in an official capacity. All former Queen Consorts have been known as 'Queen' plus their first name."
Why will Camilla no longer be known as Queen Consort?
Alongside the release of the photo of the King and Queen Consort is the invitation for the coronation that will be issued to more than 2,000 guests.
The wording of the invitation demonstrates that for the Palace the coronation is the appropriate time to start using "Queen Camilla" in an official capacity.
Since the death of Elizabeth II, Camilla has been referred to as "Queen Consort" to distinguish her from the late monarch.
However, the wording of the invitation indicates that after the coronation "Consort" will be dropped.
A portrait of the King and Queen in Buckingham Palace's blue drawing room was also released on Tuesday.