Picking up litter in jumpsuits, washing police cars and unpaid shop work will all form part of the prime minister's latest plans to "crackdown" on anti-social behaviour.
Offenders blighting their communities will be put to work to clean up their crimes within 48 hours of being handed punishments, Rishi Sunak is set to announce.
A key plank of the measures will be making justice "immediate" and ensuring that communities can visibly see efforts to clean up vandalism and graffiti.
Known as immediate justice, it is set to be piloted in ten areas before a rollout across England and Wales next year.
Speaking ahead of the plan's publication, the prime minister said: "For too long, people have put up with the scourge of anti-social behaviour in their neighbourhoods.
"These are not minor crimes. They disrupt people's daily lives, hold businesses back and erode the sense of safety and community that brings people together.
"That's why I'm bringing forward a new plan to crack down on this behaviour once and for all – so that everyone can feel proud of where they live."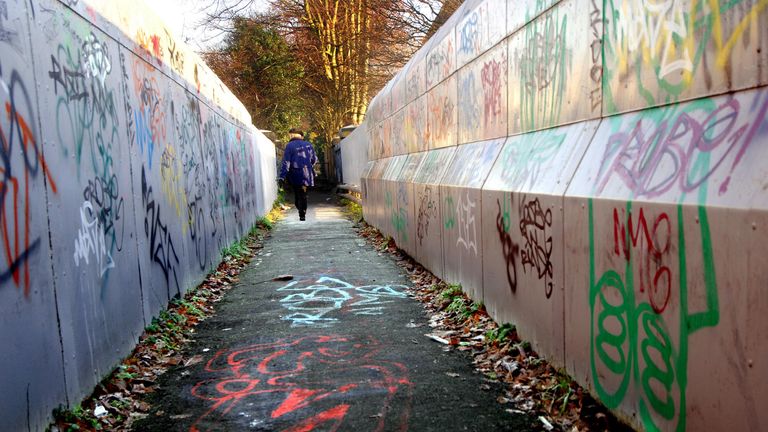 Cleaning up the mess they created
The prime minister has set the target of having offenders who are slapped with community orders starting reparation work within 48 hours of being handed the punishment.
Advertisement
Mr Sunak dedicated a portion of his new year speech, setting out his five pledges ahead of the next election, on his ambitions to tackle anti-social behaviour.
He said that low-level offences made "life miserable for so many" and argued the destructive form of behaviour could "be a gateway to more extreme crimes".
According to officials, Mr Sunak's plan will see offenders having to wear jumpsuits or hi-vis jackets and work under supervision as part of efforts to give the public confidence that justice is being done.
Where possible, low-level criminals will be tasked with cleaning up the mess they created.
If their anti-social activity has already been removed or repaired, they will instead be assigned projects to assist their community in other ways.
Be the first to get Breaking News
Install the Sky News app for free
Community payback
The plans will come alongside an expansion of "community payback" for more serious criminals sentenced by the courts to do unpaid work in their communities. Ministers have pledged that victims and affected communities will get a say in deciding what type of punishment or consequences offenders should face.
Last year 1,500 offenders spent almost 10,000 hours on 300 community clean-up projects, and there are plans to double that this year.
According to government figures, last year saw 1,500 offenders spend almost 10,000 hours on 300 community clean-up projects, with plans to double that this year.