High-profile figures from sport and broadcasting appear to have poked fun at the BBC over its U-turn on the Gary Lineker impartiality row.
After the corporation last Friday suspended the Match of the Day presenter, 62, for his tweets criticising the government's migration policy, it has now agreed to allow him back on air this weekend.
An independent review will look into its social media usage guidelines as the BBC's director general Tim Davie denied reinstating the former England footballer amounted to a climbdown by the corporation.
But some Tory MPs are furious at the decision to bring Lineker back, saying it allows him "carte blanche" to say what he likes on social media, despite Mr Davie insisting that until the review report is published, Lineker will "abide by the editorial guidelines".



1:41

BBC did 'right thing' over Lineker row
Lineker himself has started tweeting again about the plight of refugees, and also writing: "We remain a country of predominantly tolerant, welcoming and generous people."
Twitter
Due to your consent preferences, you're not able to view this.
Open Privacy Options
Mr Davie said he took "proportionate action" after the presenter apparently breached BBC impartiality guidelines by comparing the government's language on its asylum plans to 1930s Germany – an intervention which caused uproar among Tory MPs as Labour politicians hailed his stand.
Ex-BBC presenter Dan Walker and former Manchester United footballer Gary Neville were among those who seemed to mock the corporation's apparent climbdown.
More on Gary Lineker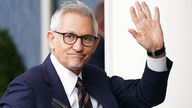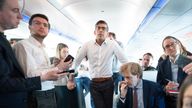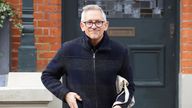 Related Topics:
Gary Lineker
Walker tweeted: "Unnecessary fixture decided by an own goal."
Sky Sports pundit Neville was amused by the fact Mr Davie had apologised to Lineker, tweeting the word "apology" with two laughing emojis.
Advertisement
Twitter
Due to your consent preferences, you're not able to view this.
Open Privacy Options
He added: "You think this lot would apologise if they didn't have to. They took on football and got beat up again. I'm talking about the government who are at the heart of all this nonsense. They wanted to silence someone who is damaging them on a daily basis."
Former BBC news executive Sir Craig Oliver said the corporation made the "wrong choice" when it asked Lineker to step back, which led to other BBC sports staff refusing to do their shows. "I think it's a total mess," he added.
And comedian Nish Kumar tweeted: "One of the best things about the end of the Match of the Day saga, is that we don't have to listen to various Tory MPs talk about football. It's been like listening to a dog describe chess."
Lineker posts new refugees tweet as details emerge of BBC deal – latest updates
Tory MPs hit out at BBC
But some Conservatives MPs are not happy with the BBC's decision, with Craig Mackinlay saying: "Gary Lineker is paid a seven-figure sum annually from BBC licence payers to present football.
"The BBC climbdown with an apology and carte blanche to do as he pleases on social media is remarkable.
"His eight million Twitter following is on the back of his ongoing celebrity due to his BBC contract and he can now seemingly push his highly political anti-government agenda with impunity. I know of no other employer who would permit this."
'Self-inflicted chaos'
And fellow Tory MP Scott Benton wrote: "The licence fee is a decades out of date, regressive tax which people shouldn't have to pay simply to watch TV. I've long called for it to be scrapped.
"This self-inflicted chaos and their obvious unwillingness to enforce impartiality will only strengthen calls for the fee to go."



2:18

What are the BBC impartiality rules?
Read more:The BBC's guidelines on impartiality explainedRishi Sunak declines to back BBC chairman Richard SharpRole of BBC director general has always been a tricky balancing act
Be the first to get Breaking News
Install the Sky News app for free
Satirist Armando Iannucci said the row over impartiality at the BBC will continue until the corporation is separated from government.
The Thick Of It creator, who aired his comedy series about the inner workings of life in Westminster on the BBC, wrote on Twitter: "This week's story will keep happening unless the BBC is truly independent of the government of the day."
Lineker's eldest son, George, tweeted a goat emoji – often used to signify G.O.A.T, meaning Greatest Of All Time for sportspeople. He later wrote: "Nice work Gaz."
Twitter
Due to your consent preferences, you're not able to view this.
Open Privacy Options
Meanwhile, a new YouGov poll of roughly 2,600 adults shows the majority (57%) think the BBC was right to reinstate Lineker.
Not everyone agrees with the decision, however, with 23% indicating that they think it was right to ask the presenter to step away. And a fifth of Britons don't know how they feel about the situation.
Tory voters are split on the issue with 41% equally saying they agree and disagree.
But it was a much clearer divide among Labour supports – 81% said it was right for Lineker to be reinstated, compared to just 10% who say it is wrong.